Careers at Imagineering and HOOPS
Imagineering and HOOPS have been providing technology and software solutions to local businesses for over 30 years. Located in downtown Eau Claire, Imagineering and HOOPS are family-owned businesses that take pride in our relationships and unmatched customer service — and that's where you come in.
Our team members are encouraged to be as self-sufficient and creative as possible in finding the right technology solutions for our customers.
Our team members maintain close relationships with customers in order to provide them with the best service possible. Outstanding communication and customer service are critical.
Qualified candidates should have a technical background with a desire to expand their knowledge. We are willing to train motivated candidates, and we offer the opportunity to learn and build a wide variety of skills.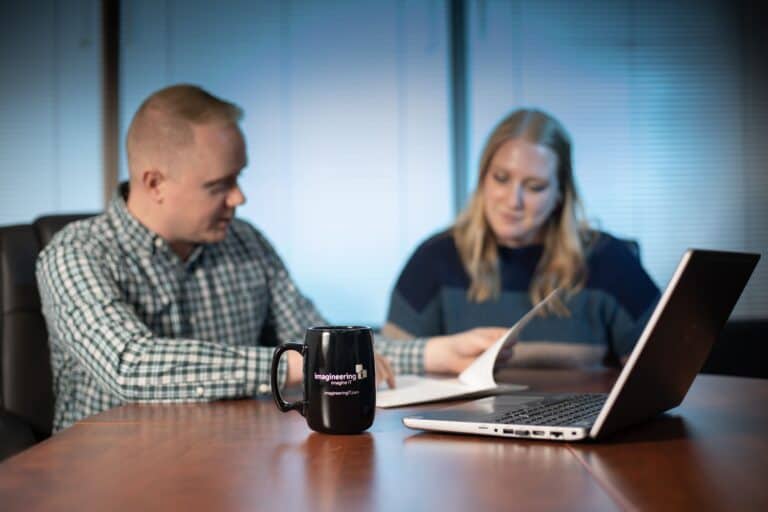 At Imagineering and HOOPS, our philosophy is to do it right, all the time, for our client, no matter what.
We implement solutions based on our customers' needs and wants, and we bill accordingly — you won't find monthly retainers here. When a customer asks for help, they don't blindly email a helpdesk; they work with a familiar consultant who knows their business and their environment. That personal touch is how we have kept our customers close, like family.
Proud Members of Our Community
We love our hometown of Eau Claire, and we give back as often as we can. Imagineering is dedicated to working with local businesses and non-profits. We support our community and our customers, and we strive to give them every opportunity to grow.
As technology evolves, we strive to ensure that our core values guide every aspect of our business and define our company culture.
Learn more about what each value means to us by clicking on the icons above.