As the song goes, the holidays are the most wonderful time of the year. The sentiment is also especially true for cybercriminals. By relying on the hectic pace and distractions of the holiday season, cybercriminals and fraudsters are able to steal money, swipe data, and compromise computer systems more easily.
To help combat this, the consultants at Imagineering have put together a list of cybersecurity tips with five practices that will make you a harder target this holiday season:
1. Only Shop From Websites & Mobile Apps You Already Trust
It's easy to be tempted by advertisements as you scroll through your Facebook feed that offers fantastic deals on novelty items. Cybercriminals rely on the fact that you will be enticed by the promise of saving money on the "must-have" item of the year. Don't let an impulsive decision be the gift that keeps on taking.
2. Don't Click On Promotional Links in Emails
Even if an email or advertisement looks like it's coming from a site you trust, try to avoid clicking on promotional links. Cybercriminals love to impersonate top brands and websites by sending you fake emails that look exactly like your favorite shops. Clicking on these links provides them with what they need to download malware onto your computer. The links also may direct you to a fake page that will try to collect your login information or payment details.
3. Watch Out for Fake Delivery Notification Emails and/or Text Messages
Criminals are banking on the fact that you are going to be expecting more packages and deliveries this time of year. After you order something, use the tracking link provided on the order history page of the website you ordered from. If you receive a delivery notification and are not expecting any deliveries, do not click on it. Navigate to the parcel service's website directly, then enter the tracking number into their online package tracking form.
4. Be Cautious of Holiday-Themed Mobile Apps
App stores have been known to house some less-than-trustworthy apps. Think twice before downloading that holiday-themed game, a wallpaper app, or other novelty apps from an unknown publisher. If you do download a new app, pay close attention to the permissions it's requesting. Think about if the app really needs those permissions to do what it says it does.
5. Monitor Your Bank & Card Activity
Early detection of suspicious account activity will allow you to work with your financial services provider to shut down additional fraud and recover lost funds. Fraudsters and cybercriminals will often start with a few low-amount transactions from retailers you frequent (think: Amazon) and hope you won't notice before the high-amount transactions start to rack up your credit card bill or deplete your bank account.
---
We all know someone who has been affected by a cybersecurity attack. Don't let yourself, your friends, your family, or your business fall victim to these attacks this holiday season. Share this list of cybersecurity tips with someone you think may need a reminder.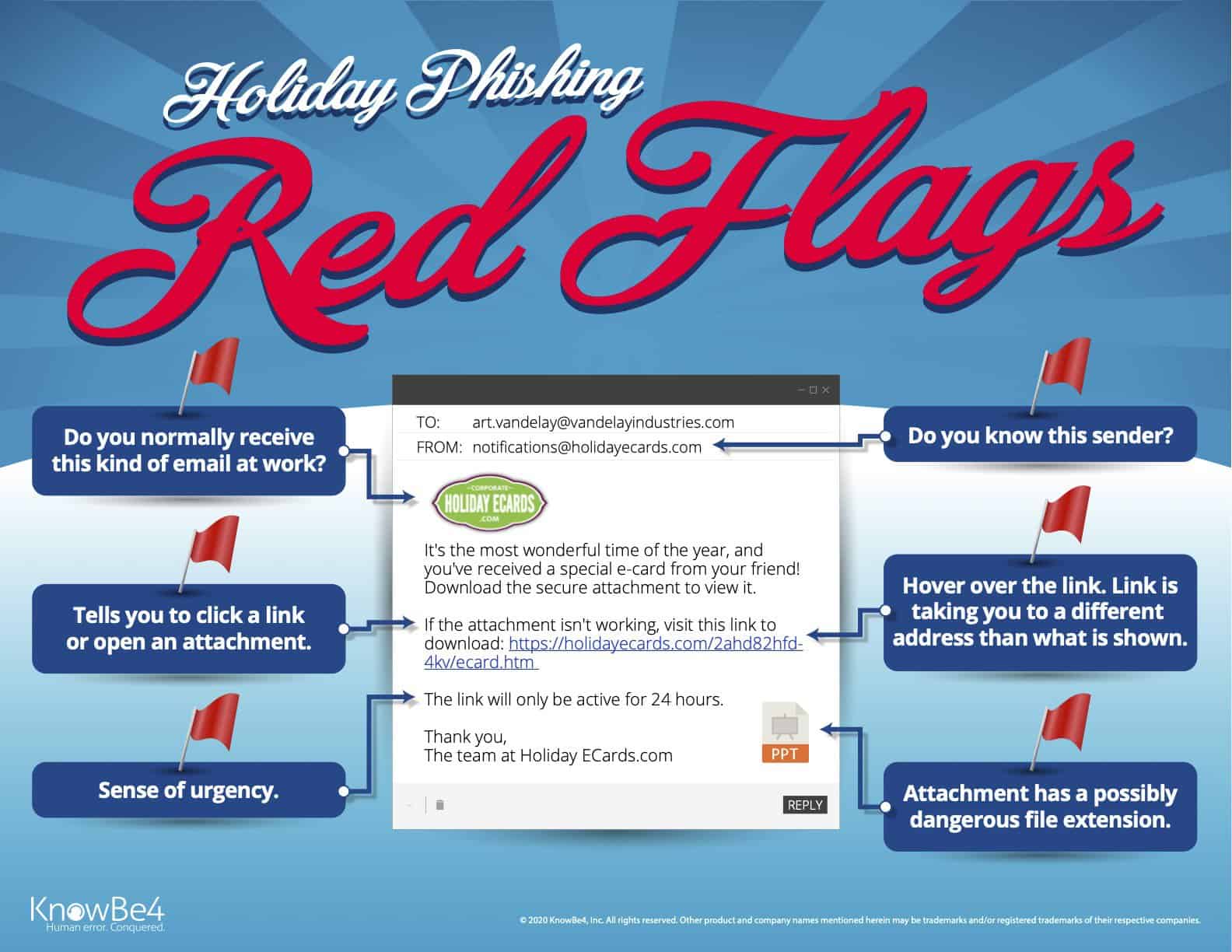 If you are wondering if you might be vulnerable, the consultants at Imagineering are ready to check up on the health of your technology to ensure your data continues to stay safe for the long term.
Protect Your Business for the Price of a Cup of Coffee