To put it in simple terms, an ERP system is the
glue
that holds all of the pieces of your organization together. 
A cloud-based ERP solution should be used to replace the multiple systems that businesses have thrown together to manage their many daily tasks. Merging financials, sales, inventory, manufacturing, distribution, and CRM needs in one ERP solution, a small business achieves a single source of information drawn from accurate companywide data. 
Below are 5 ways your small business will benefit from cloud ERP!
Complete Visibility Across the Organization
Most small businesses rely on disconnected systems to manage their diverse responsibilities. This can result in siloed data, which is oftentimes hard to compile and requires manual workarounds. Being a time-consuming and inaccurate process that can be taken out with an ERP solution.  
Reducing human effort and providing a 360-degree view of your business is what a small business ERP can do for you. Your data is gathered into a central repository, allowing all of your teams to have access to innovative business intelligence tools. These tools will deliver actionable insights for strategic decision-making. 
Greater Workforce Collaboration
Team members will have access to the same, accurate information at the same time. This will ensure that everyone is on the same page when working together on company-wide projects. Time can be spent proactively moving forward, instead of it being wasted on verifying information.   
Easier Team & Resource Management ​
With an ERP system, managers are enabled to monitor their teams and resources from one solution. A collection of critical information is available at their fingertips. When necessary adjustments or changes need to be made, they can be done quickly and easily from a single dashboard.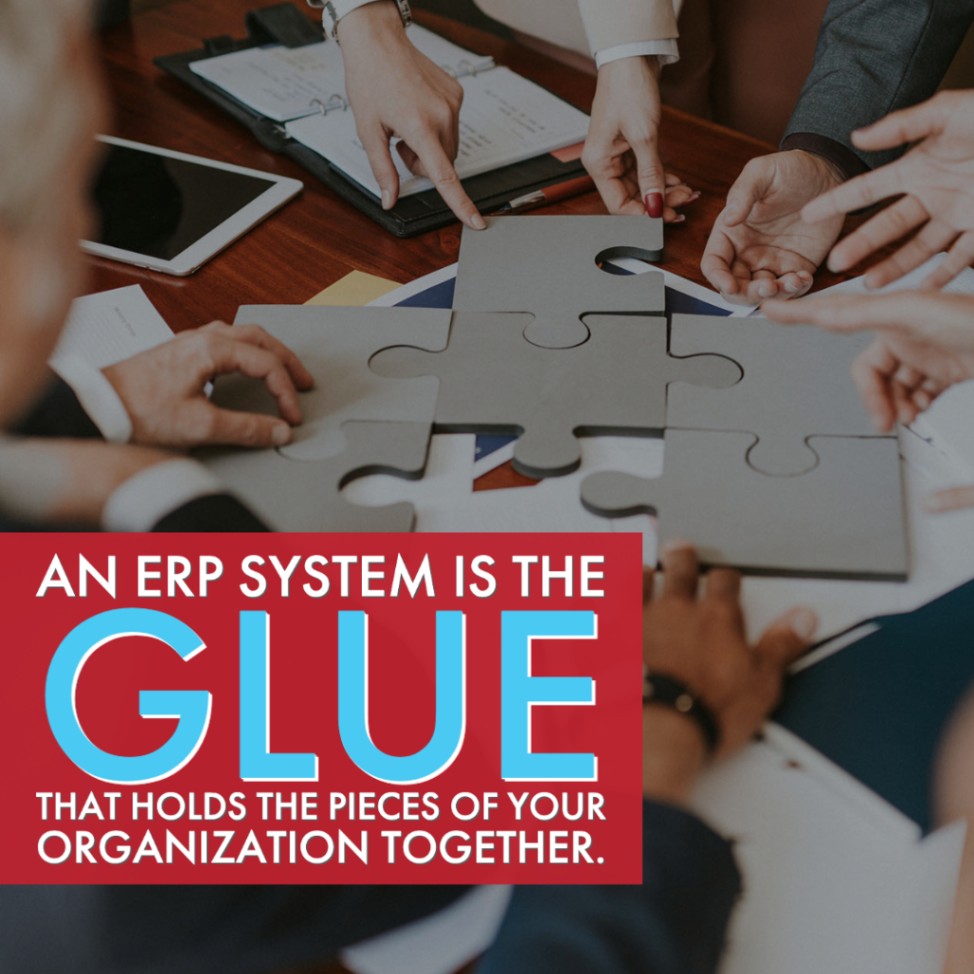 Improved Accounting Standards & Regulatory Compliance
A complex challenge for any business can be complying with the constantly changing accounting regulations. The cloud ERP system can ease this complexity by providing internal control, automatic updates, and automated data collection capabilities that companies need to keep up with the evolving statutes and standards.  
Increased Adaptability & Scalability
Cloud ERP solutions offer adaptability and scalability that is not possible with disconnected, legacy solutions or on-premises business management systems. You can seamlessly integrate with business-enhancing, third-party applications through open APIs. All of your applications can be under the same technology umbrella.  
How HOOPS, Inc. & Acumatica Can Help
HOOPS Business Management Software, powered by Acumatica, streamlines your most essential business functions into a single location, online. Acumatica keeps you connected to day-to-day operations, including integrated workflows with Financials, Project Accounting, Inventory Management, and Customer Relationship Management.  
Acumatica is an award-winning cloud ERP solution that is currently the only Cloud-based ERP solution that can be accessed online from anywhere on any device. This solution provides a way to manage your business more quickly and easily.  
As a local Acumatica partner, we understand the unique needs of small and mid-sized businesses like yours. If you are ready to take the next step with an ERP solution, contact us today for a FREE DEMO to learn more.
Watch the Free Webinar + Product Demo
In this webinar, Josh Hanson & Steve Plitzner are joined by Acumatica expert, Jessica Gadbois, to deliver an in-depth presentation and product demo. Starting with Microsoft Dynamics GP, we will walk you through where business management software is headed, as well as the full potential of a modernized system that streamlines outdated software and influences company growth and efficiency.
This is a live recording from the webinar that took place on Tuesday, March 16, 2021.