With the rise of remote work, the Cloud has never been more fundamental to business practices. By accessing software applications via the Internet, cloud computing supports the complete transformation and growth of your business. Moving from an outdated business model to a future-ready model, your processes become more streamlined, integrated, and automated.
What is Cloud ERP Software?
Cloud-Based ERP is a Software as a Service (SaaS) that allows users to access Enterprise Resource Planning (ERP) software over the Internet. Cloud ERP has lower upfront costs, because computing resources (processing power, memory, and disk storage) are leased by month, rather than purchased outright and maintained on-premises. Because Cloud ERP is accessed via the Internet, it also gives companies access to applications and data anywhere, anytime.
The Advantages of a True Cloud-Based ERP
While technically the only difference is where the software is physically located, there are other significant benefits to Cloud ERP. Most valuable to small- and medium-sized businesses (SMB's), the Cloud provides access to all critical business applications at a reasonable price. With the right cloud provider, small- and medium-sized companies can rapidly scale their business productivity software as their business grows or scales seasonally.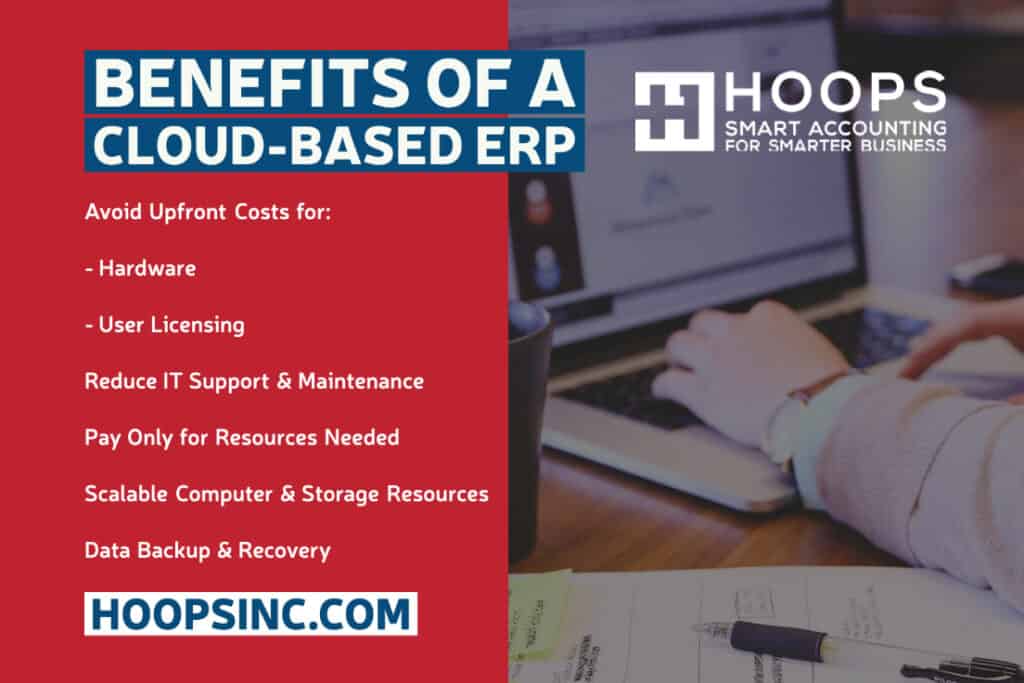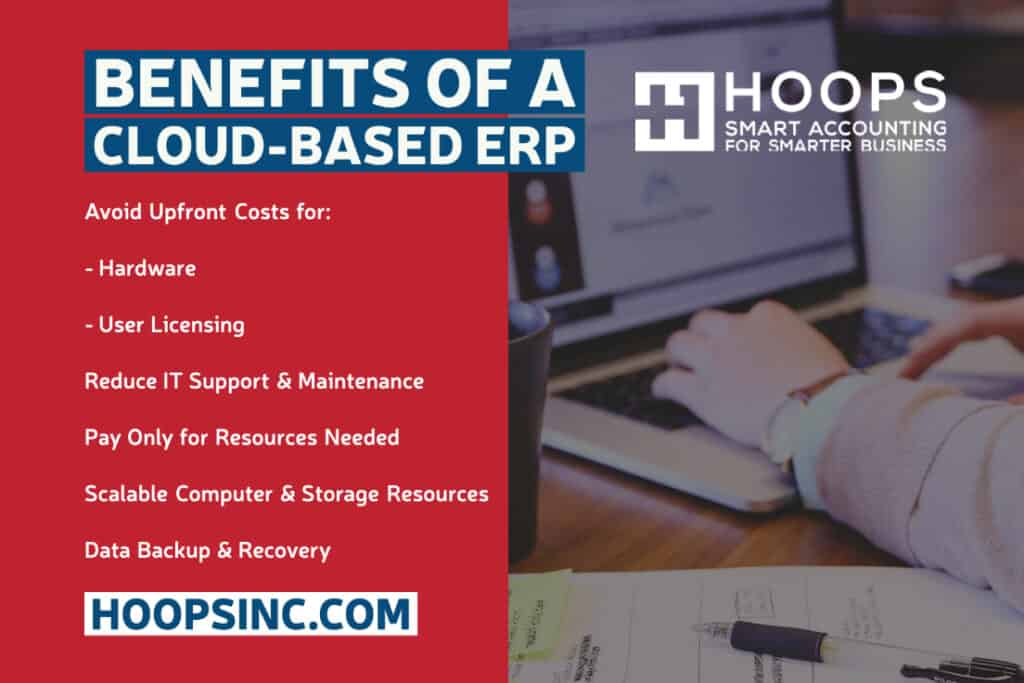 Cost Savings
Cloud-Based ERP has been proven to reduce costs in many ways. When you make the switch, you will:
Avoid upfront costs for all computing infrastructure, such as hardware and data servers
Reduce IT support, as it is provided by the data center
Eliminate paying upfront for application user licenses in favor of a monthly fee
Shrink the cost of maintaining and supporting applications because the cloud vendor handles the updates and upgrades
Pay only for the computing resources needed
Business Benefits
The most important benefits to small- and mid-sized businesses go beyond cost-savings. Enjoy the following benefits with Cloud ERP:
Installation of hardware and software on servers or user devices is not required, so you can take advantage of applications faster
Adjust the amount of cloud service you need in real-time as your company's computing or storage needs fluctuate
Be confident that your data has been backed up and there is a disaster recovery plan
Access the system from anywhere, making it easy for a company to expand since there is no need to implement hardware and software at remote locations
Role-based solutions provide unique workspaces to your employees with only applications that pertain to them
Growth-Friendly Licensing
With no per-seat premium, the right Cloud ERP is not based on user licenses, but rather consumption. Seasonal needs will no longer be a drag on your business, and it also gives you the opportunity to grow sustainably. Remove business bottlenecks, and improve results with Cloud ERP solutions.
Flexible Deployment Model
Based on your terms, delivered as you need it, Acumatica can be deployed in a public or private cloud environment.
Acumatica Cloud ERP provides the best business management solution for revolutionizing your company to thrive in the new digital economy.

The Best Business Management Solution for Thriving in the New Digital Economy