Oftentimes, inventory-based businesses, such as distributors, retailers, manufacturers, and construction companies, have Inventory Management Systems that are disconnected from their Financial Management Systems, as well as their Customer Relationship Systems.
These businesses often spend a significant amount of time on double entry in multiple systems leading to discrepancies. They also tend to experience issues and frustration with the creation of critical reports that use input from multiple systems.
The Short Answer
If you are one of these frustrated business owners, looking for connected business software that houses all of your data in one place — and is accessible anywhere — HOOPS business management software, powered by Acumatica is the answer.
The Long Answer
Here's a step-by-step example of what your experience would look like using Acumatica:
Access Acumatica: Using a web browser or mobile device (including a smartphone or tablet).
View Dashboard: Each employee has their own dashboard, based on their role in the company (including KPIs & tasks that need to be completed). With your own dashboard, you are able to:

View data specific to your job
Easily Check Customers Exceeding Credit Limit
Quickly Look at Cash Inflow for 7 days
Access invoices to email/print

Manage Projects: Project Management dashboards also allow you to view:

Active projects
Unprofitable projects
Budgets against expenses

Utilize Purchasing Dashboards: Inventory-based companies that require purchasing can utilize purchasing dashboards, including:

Need to be purchased
Open purchase orders
Summary + detailed reports related to inventory and financials
Connecting all facets of your business in one system allows you to eliminate discrepancies and empowers you to make better business decisions.
Case Study: Dakota Red
Dakota Red Corporation was using a disconnected financial report writing software and then massaging data within Excel, which meant they often had to manually recreate reports every month.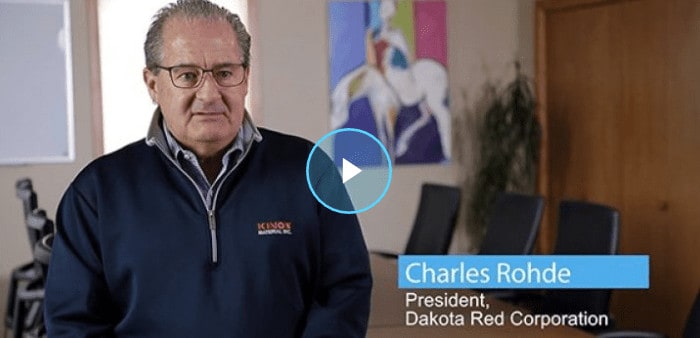 Challenges Faced:
Multiple disconnected systems to manage inventory and financials
Inaccurate and time-consuming reports and financial statements
Severe lack of inventory visibility across inventory yards
With Acumatica, they benefit from real-time reports that can be accessed in seconds and it provides a 360-degree view of the business. Improved visibility led to higher customer service and satisfaction.
Value Added:
Eliminating discrepancies between inventory counts and financial statements
Gained visibility into accurate, real-time inventory numbers across multiple locations
Reduced time spent on physical counts, double data entry, and manual report creation
Solving the Disconnect: Unifying your Inventory & Financials
One of the most significant benefits of tying your inventory system to your financials and customer system is to perform actions such as profitability analysis. Easily see which customers, items, and orders are the most profitable so that you can focus on improving your bottom line. Reporting can show you very clearly where you should be spending your time in your business, and which item(s) will help you to improve your bottom line.
Acumatica understands that moving from a disconnected business to a connected workplace has become a requirement. Contact HOOPS for a free demo today.
Get a FREE Acumatica Demonstration