As a startup or growing company that uses QuickBooks or Sage, you may start to learn its limitations.
QuickBooks and Sage offer users a good starter accounting package at a good price. However, it is designed to handle basic accounting only. To manage business processes outside of financials requires an Enterprise Resource Planning (ERP) solution. ERPs can handle accounting and financial management needs along with other business requirements, such as manufacturing, distribution, and more.
Dedicated to providing the latest technology, Imagineering is excited to offer Acumatica Cloud ERP for businesses that have outgrown Quickbooks or Sage. A major step up in functionality and scalability, Acumatica is currently the only cloud- and browser-based ERP solution that adapts to the needs of growing small and mid-sized businesses.
12 signs you've outgrown QuickBooks:
Grow Your Business Without Adding to Your IT Budget
When you switch to Acumatica, you will avoid upfront costs since there is no need for special server or workstation installations. Access the system from anywhere on any device, including mobile. The monthly subscription model also gets rid of the need for upfront software licenses. Ongoing maintenance costs are also eliminated, as Acumatica handles the latest updates to their software automatically.
All of Your Data At Your Fingertips
Acumatica is a complete cloud ERP solution, making it simple to access Acumatica from any device with an internet connection. With best-in-class functionality, all of your data is connected and at your fingertips. Acumatica's core functionality includes Financial Management, Project Accounting, Inventory Management, Customer Relationship Management, and Payroll for all of your business needs.
Scale As Your Business Grows
Adapting to the needs of growing businesses, Acumatica does not charge a per-seat premium. Your technology can grow/shrink with your business or seasonal needs without hindering growth. Every authorized person can access, create, and receive the information they need to drive productivity.
The graphic below highlights some of the advantages of moving from QuickBooks to an ERP system, as well as the advantages of choosing Acumatica: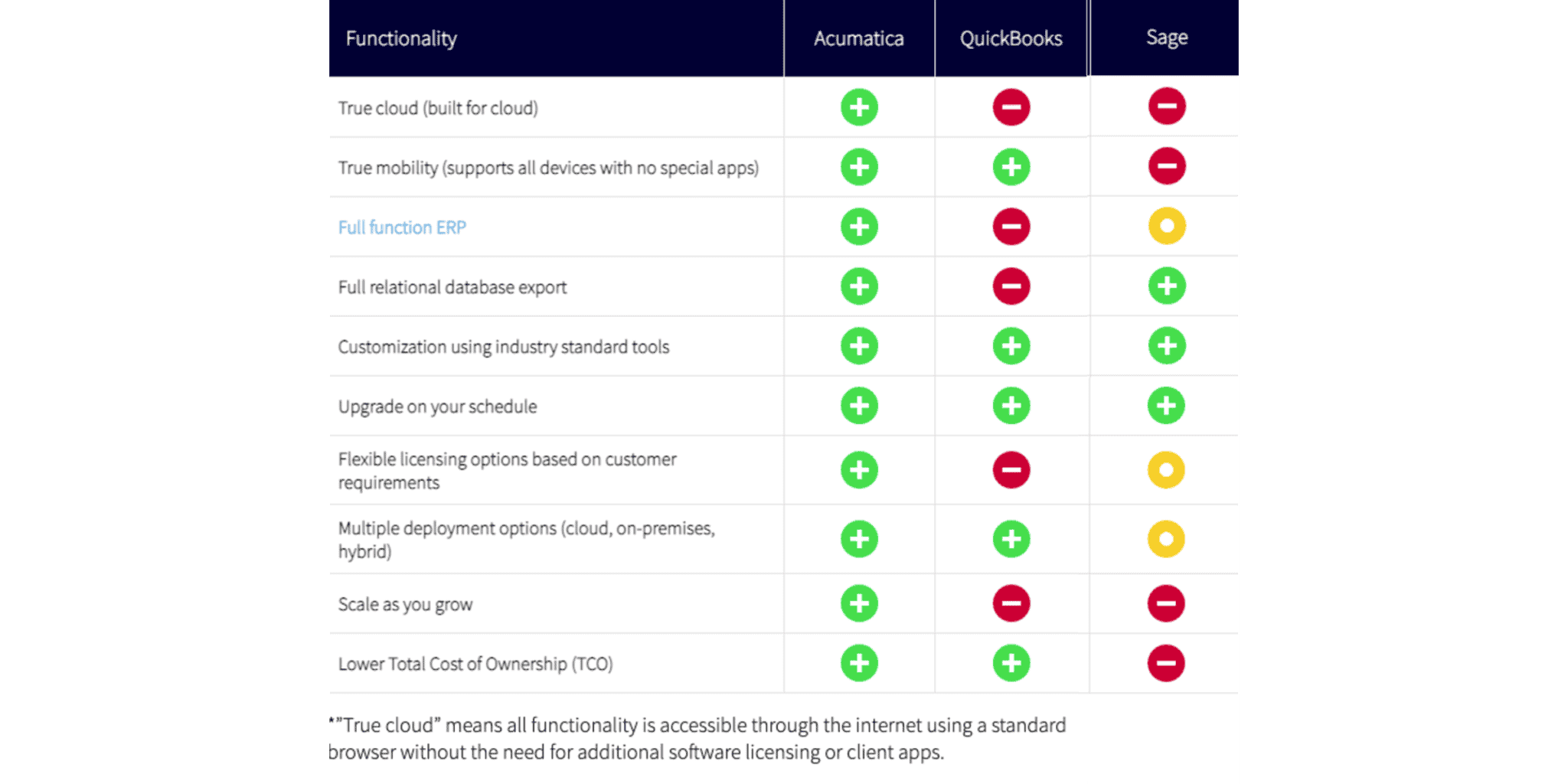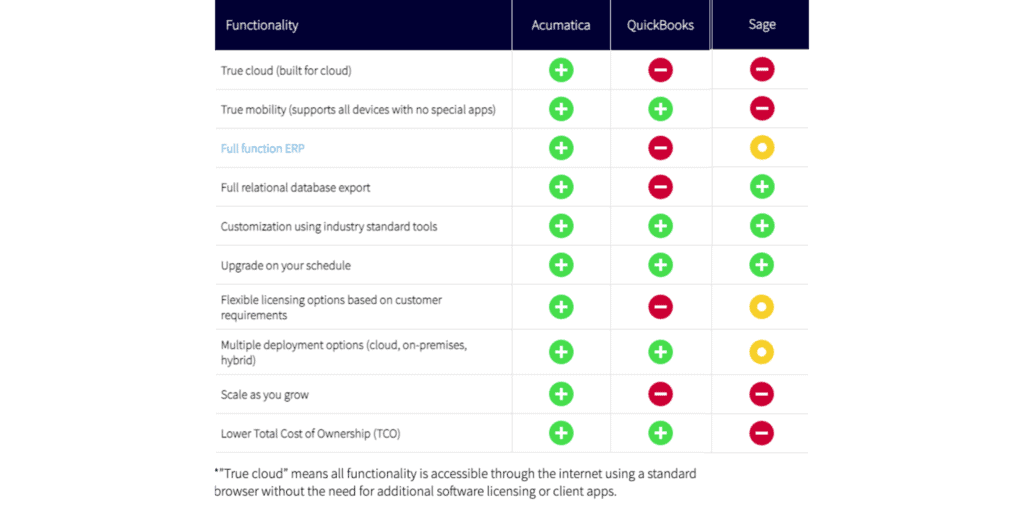 Acumatica Cloud ERP provides the best all-in-one management solution for transforming your business to thrive in the new digital economy. By upgrading from Quickbooks or Sage, you will quickly discover the business benefits and cost savings enabled by Acumatica.

Ready to Move Your Business to the Cloud?