Running a small business is an amazing way to serve and leave an impact on the community you live in. Unfortunately, when it comes to cyberattacks, most small business owners believe their companies are not worth the bother.
Company Size Doesn't Matter in Automated Cyberattacks
It is a common misconception that cybercriminals operate by targeting individual companies. It is another misconception that they only attack large companies because they have more money, data, and/or assets.
Cyber attacks on specific organizations are becoming rare. Because of the ability to automatically scan a large amount of the internet for vulnerable devices, cybercriminals are not initially concerned about specific companies, or their size.
What cybercriminals are looking for is the best return on their investment paired with the least chance of being caught. Automated attacks achieve this by using scanning tools to easily find computers that have a vulnerability, or a hole, that the cybercriminals can exploit, or access. Sadly, that appears to mean small businesses are their current target of opportunity.
Cybersecurity Advice for Small Businesses
The best, easiest, and most cost-effective course of action for small businesses to get ahead of automated attacks is to prioritize patch management or the process of applying updates to your software and operating systems.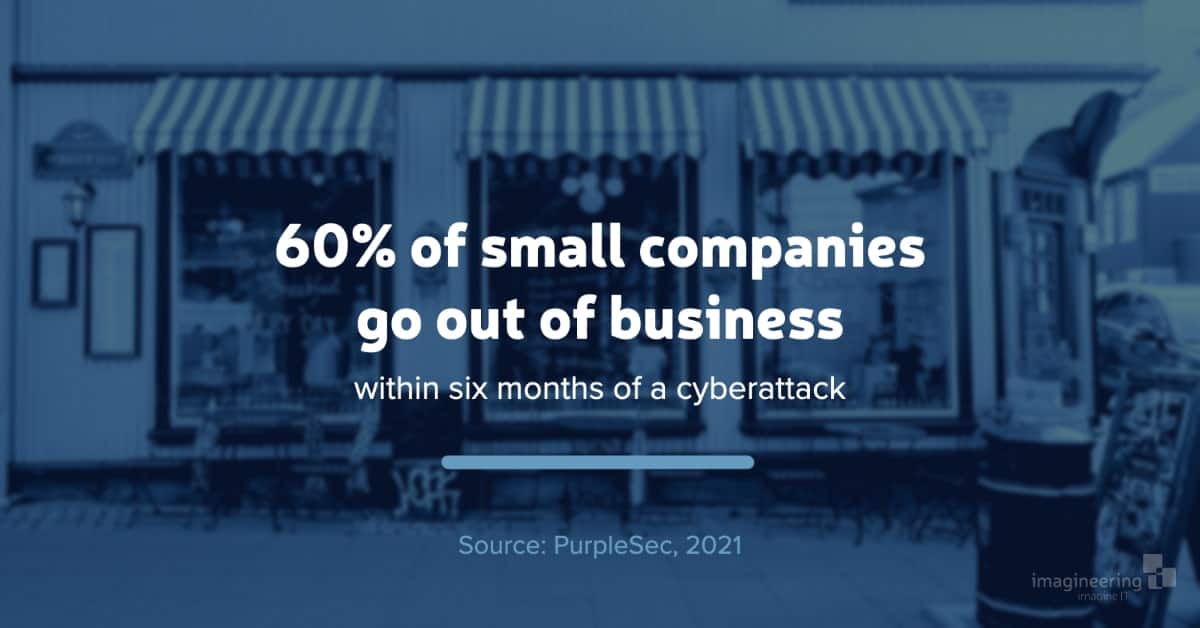 Unfortunately, 60% of small companies go out of business within six months of a cyberattack. Applying updates to your systems ensures that the automated cyberattacks cannot trace your systems as being vulnerable, and keeps your information safe.
Become Proactive Before You Need to Become Reactive
A small investment up front could end up saving you thousands down the road. For only a few dollars per machine per month, IT service providers, such as Imagineering, provide vulnerable devices with patches needed to protect your company from cyberattacks.
About Imagineering
Imagineering is dedicated to working with our community to help businesses and nonprofits grow, financially and technologically. We help local businesses become educated, stronger, and more secure through technology.
Patch Management for the Price of a Cup of Coffee