Does your business use Microsoft 365 yet? Setting businesses up with Microsoft 365 is a service that we provide. It is a simple and stress-free process that will allow your business to excel. If you have an outdated on–premise email or use Gmail, now is the time to make the switch to Microsoft 365! 
Microsoft 365 is designed to help businesses work more efficiently. It delivers innovative and intelligent experiences along with rich organizational insights. Subscription packages include familiar applications such as Outlook, Word, Excel, and PowerPoint, as well as various levels of services such as SharePoint, OneDrive, and Teams. With Microsoft 365 your business can improve its cybersecurity, reduce costs, and empower employees to work from anywhere!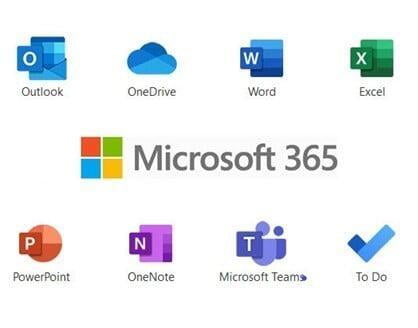 Be Productive and Creative from Anywhere
You can securely save your files in the Cloud with OneDrive and access them from anywhere. Microsoft Teams helps your team stay organized and collaborate with one another all in one space. Powerful apps like Word, Excel, and PowerPoint give your team the opportunity to bring ideas to life across all your devices while working in real–time, whether you are together or not. 
Experience Engrained Professionalism
It is not uncommon for businesses to start with a free Gmail address because they are looking to cut costs. The easy migration to Microsoft 365 is a logical move toward professionalism. Your business email will include your domain name, giving you a professional and ethical presence. Worried about what will happen to all of your previous emails? Don't fear, they will all be forwarded to your new email address.  
Find Peace with Built-In Security
Stay secure and productive on any device. Microsoft's built-in comprehensive, intelligent, enterprise-grade security features allow businesses to have peace of mind knowing that personal information, devices, apps, and data are protected. Your business does not have to put time and resources towards on-premise installations and updates when you have Microsoft 365. Utilizing multi-factor authentication will also help ensure that you are the only one able to sign into your accounts.  
In addition, spam filtering and virus protection are provided on all inbound and outbound email messages. Your files will always stay encrypted. The privacy and security controls in Teams and Outlook will protect your employees from online criminals using phishing and malware tactics.  
Encounter Local and Knowledgeable Support
Imagineering is proud to be a Microsoft Partner and offer the best solutions to our customers.  
Microsoft 365 is the cloud-based subscription service that your business needs. Its applications, cloud storage, and security features are perfect for your business. As a Microsoft Partner, Imagineering will design your working environment with your specific business processes in mind. From setting up applications and infrastructure to storing and securing files, Imagineering can help you reach your business goals.
Contact us to get started!